Participant FAQS
Hello fellow seeker! Feeling a little lost on your journey? We've been there :) That's why we've created this list of frequently asked questions to point you in the right direction. If you don't find what you're looking for please contact our veteran support team below.
What is Retreat Guru?
Retreat Guru is the world's largest marketplace for wellness travel. Over 1.4 million registrations on our platform, $500 million lifetime bookings and 1500 handpicked packages worldwide. Best of all, we are a small team of 25 retreat goers (just like you) headquartered in Nelson, Canada.
How does it work?
We make it easy-to-find and book trusted online healing experiences. The marketplace is a space for everyone of all skill levels and interests to find and book life-changing retreats. Retreat centres and teachers post their offerings on the marketplace for you to discover. Participants book online, go on retreats and then leave ratings and reviews to help others find their way towards the best transformative travel experiences. To learn more about us click here
Is there a best price guarantee?
YES. All listings on Retreat guru are sourced directly from the Centers that publish their best price every time. What you see on Retreat Guru's marketplace will match what the center or teacher offers directly. No booking fees (because nobody likes fees).
Are the retreats verified?
Retreat Guru curates the best retreats from all over the world. All of the published listings have been reviewed and approved by our team who are also retreat goers. We also receive ratings and reviews from participants who help us report bad actors, so we know who is in full integrity. Together, we are an ecosystem — all in service to a greater mission: waking up the world.
How do I find the right retreat for me?
You'll find retreats of every type on Retreat Guru, and hosts from every lineage and specialty. To find the right retreat for you, you can select a tile on the homepage for a specialty or try using our search filters and map view. If you would like guidance or support, feel free to chat with us online.
TIP: If you start by typing in the search bar, you can search by retreat type, teacher name, retreat center, retreat title or any keywords.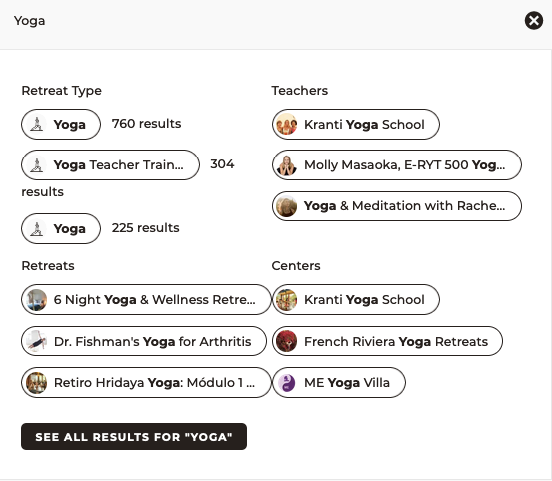 Once you have searched you can refine your search by using the retreat type, location, date, duration and cost tab. Only select 'online' if you are looking for an online retreat. Below is an example of a search for a yoga retreat type in Peru happening during July 3rd to July 16th for 1-7 days that cost less than 2500 USD.

You can also use the map view to search by location once you have filtered your results. To refine the search for retreats in Peru you would click on 211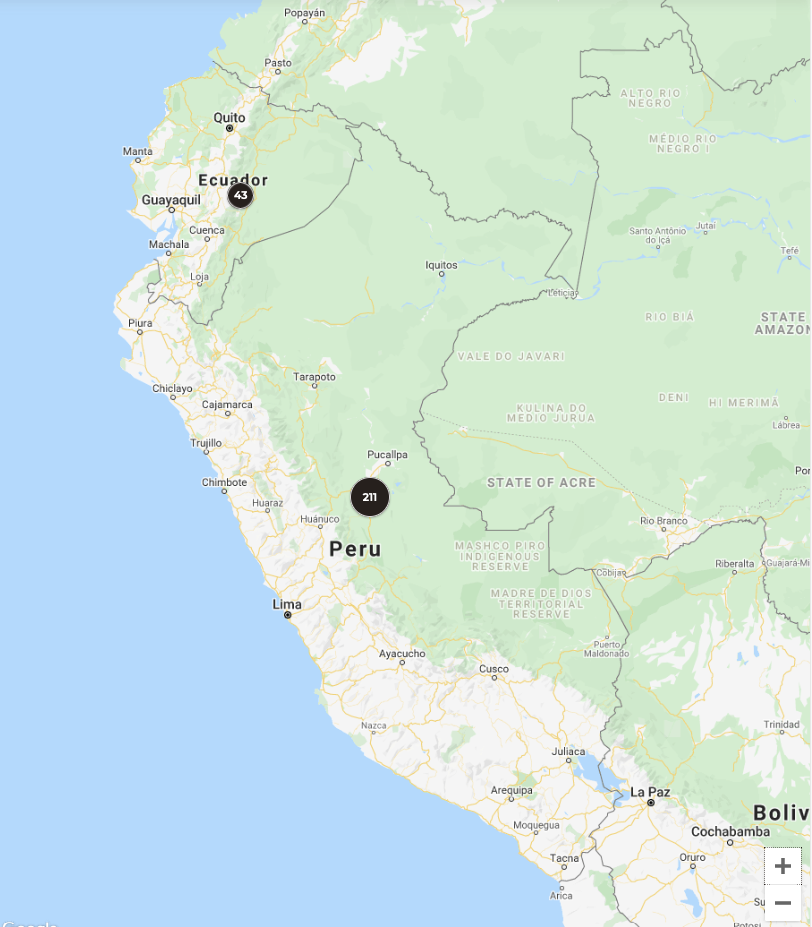 In the example below we have refined the map view even further by clicking on Nauta and seeing the available 15 retreats in this area.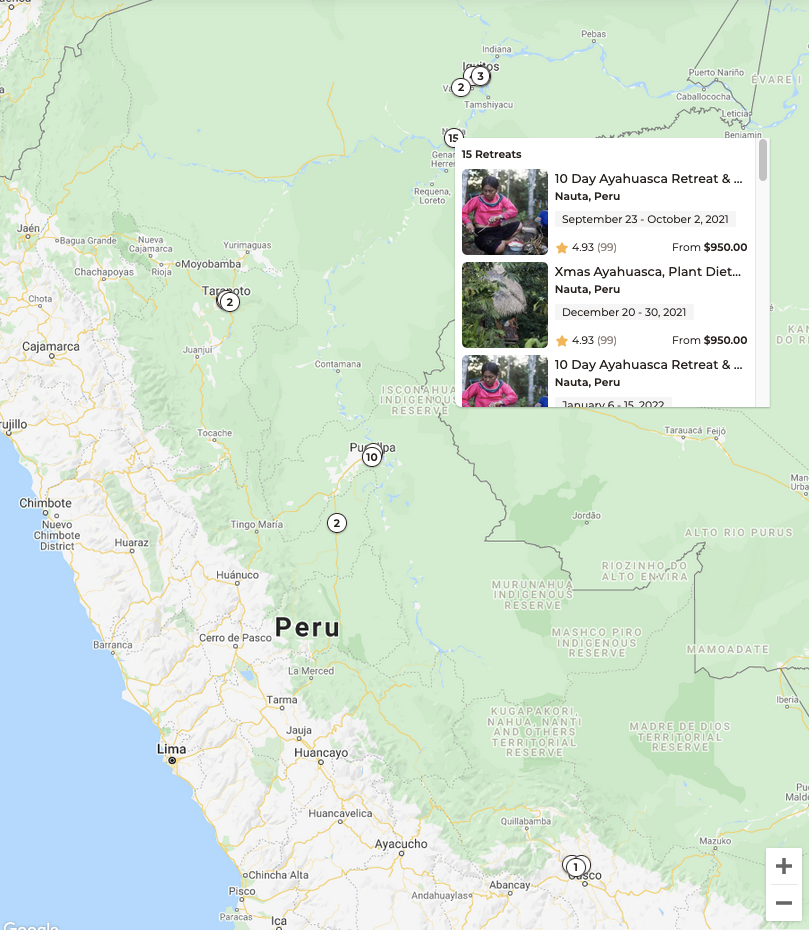 How do I find the right Ayahuasca Retreat for me?
If I have a question about the retreat how do I contact a Center directly?
You can reach out to Centers from their profile page. Click on the, "Ask a question" to begin chatting with them. Often these leaders are running retreats so it could take a couple days to hear back. If you haven't heard back you can reach out to your friendly support guru for help. Teachers can also use this avenue to reach out to a Center that they would like to connect and work with!
Once I find my perfect retreat, how do I book my place?
Click on the secure your spot button and fill out the registration form.
I have paid my deposit whats next?
First wait 48 hours and if you still haven't heard back in 48 hours click the 'Ask a Question' button on the retreat page you booked and message the retreat host.
If you do not hear from the hosts within 24 hours you can reach out to our support team.
Many centers are running with smaller teams and adapting to changes in travel, accommodations and healthcare. This may cause a delay in communications but typically indicates that the host is focused on those who are currently on retreat. Please be patient with retreat hosts as we all navigate the changing world.
My plans have changed, how do I cancel and get a refund?
First step is always to reach out to the retreat center and let them know! You may be able to adjust your dates without cancelling. If you are within the refund period of your retreats cancellation policy (check this on the event page) and need to cancel reach out to the host of your retreat to discuss cancellations. When confirmed the retreat host will reach out to Retreat Guru to cancel your registration and process a refund for your deposit payment. It generally takes 5 business days to receive the funds back on to your card. If you need any help with a cancellation you can reach out to our support team.
How will my information be used?
Your data is private and confidential. Retreat Guru will only share with the center you are directly messaging or booking. To learn more, see our privacy policy and terms.
Who do I contact with questions about my experience?
The centre whom you booked is the best palace to get additional information about your upcoming retreat. There is an "ask a question' button on every event and centre page. This allows you to send an email directly to those responsible for your retreat experience.
I went on retreat and want to talk about my experience how do I do that?
Reviews are important to us and we ensure every participant gets an opportunity to leave them. You will receive an email providing you with opportunity to leave a review. Please review our review posting policy.
What about COVID-19?
The retreat community has not been immune to the effects of the pandemic. Adaptations vary from centre to centre. Some of the more common changes include:
Reduced retreat size
Offering virtual retreats
Socially distanced retreat precautions
Retreats are still being offered! If a centre has to cancel for any reason you're entitled to a full refund of your booking.
Can't find the answers you seek?